Alpha Hypnosis – A Brief Overview…
Roger Saxelby has had a passion for learning about how the mind works and hypnosis since he was a teenager. He was finally able to complete study in psychotherapy and hypnotherapy, and graduated in 1980. He started working full time, joining colleague Warren Fox's hypnotherapy practice.
After calls from people wanting to learn hypnotherapy, In 1987 together they started the Auckland School of Hypnotherapy. In 1989 Roger went to USA to complete additionael training with the late, legendary Gil Boyne, a Master of Hypnotherapy and developer of "Transforming Therapy".  After Warren decided to retir Roger set up his own training school, the Hypnotism Institute of New Zealand. The first class was held in Roger's office in Panmure in 1990.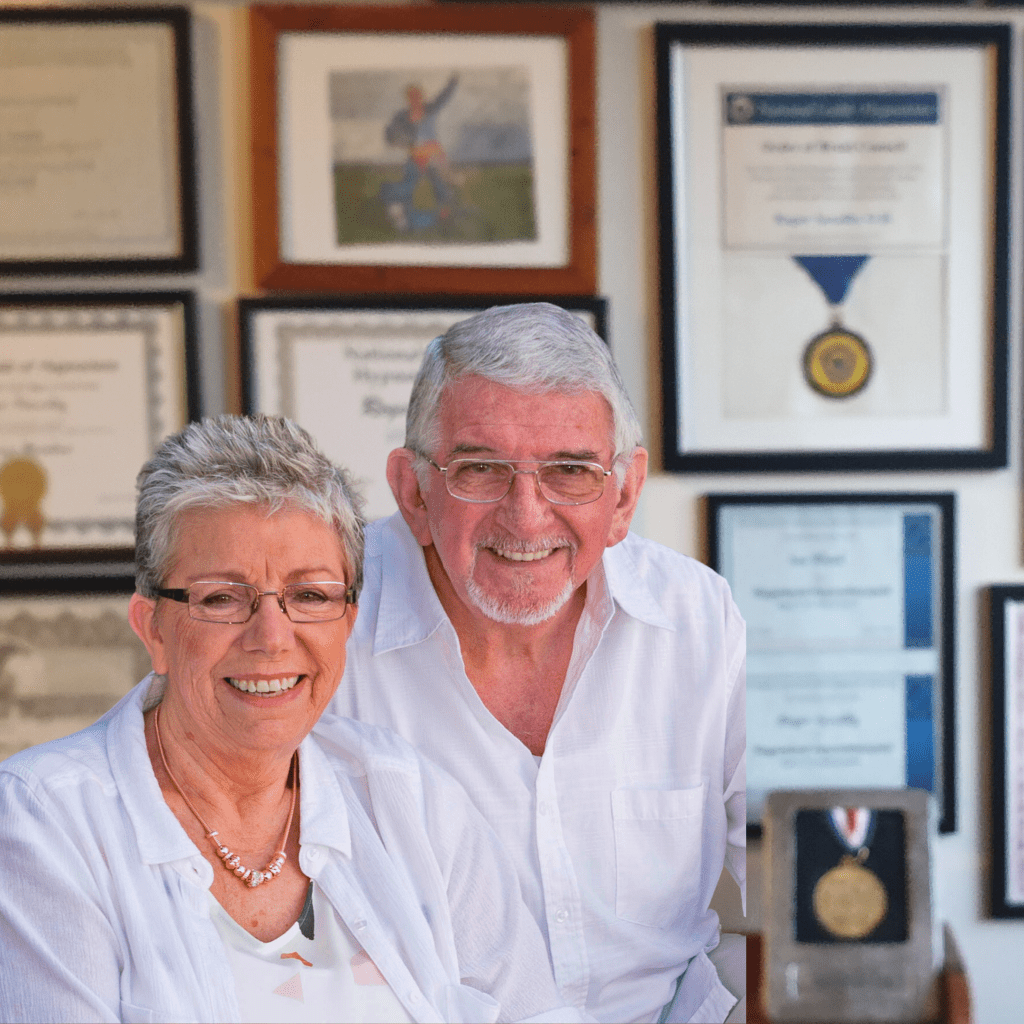 In 1996, the name of the school was changed  to Alpha Hypnosis Training, with his hypnotherapy practice became Alpha Hypnosis.  More recently the training became Alpha Hypnotherapy Training. Roger has trained with other world-renown hypnotherapists and trainers like Dr. George Bien (USA) Dr. Michael Yapko, etc.  He continues to add to his knowledge and is passionate about helping others make positive changes in their lives.
We care about your success
A great team, providing hypnotherapy programmes
and comprehensive hypnotherapy training
Roger Saxelby
Dip Psych. Hyp. Dip Adv. Hyp (USA) Dip Adv Hyp (Aust) IACT Master Hypnotherapy Trainer, NZHRB Registered Hypnotherapist, Hon. Life Member NZAPH. is the Founder and Course Director of Alpha Hypnotherapy Training.
Roger is the Founder and Principal Trainer of Alpha Hypnotherapy Training. He has featured on Television documentaries "Brain Power" and "Potential" He has also made appearances on Downsize Me and Sticky TV. Roger's original training (1978-1980) was in Psychotherapy and Hypnotherapy. Since 1980 Roger has conducted a (full-time) Hypnotherapy practice.
More About Roger
Accomplishments
He has empowered many thousands of people with many different issues, to make positive changes in their lives with hypnotherapy. Roger has been training hypnotherapists since 1987, and many use the skills and techniques they've learnt in their business today. Many have become Hypnotherapists or have added hypnotherapy to their existing work (midwives, counsellors, doctors, psychotherapists, natural therapists, etc.). Others wanted to learn more about the power of the mind, for themselves and/or their children, and still others are using hypnotherapy to inspire and empower sports teams, businesses, etc. with this transforming therapy. Roger has also taught sports psychologists the use of hypnotherapy for high-performance athletes.
Memberships & Associations
Roger was the original chairperson for the NZQA Hypnotherapy Industry Advisory Group and was also in the group when it revised the unit standards, before the Natural Therapies were relinquished by NZQA in 2006.
Roger was New Zealand's original "Mr Hypnotherapy", a title given by colleague Grant Boddington, because of Roger's depth of knowledge and experience. His service to the hypnotherapy profession is unequaled in this country and has been recognized overseas as well.
His main awards are:
Awards:
Inducted into The Order of Braid Council – The Order of Braid designation is the centerpiece of the National Guild of Hypnotists (USA) Awards System and recognizes a lifetime of outstanding achievement, dedication, and service. The NGH is the largest hypnotherapy organization in the world.
Honorary AHA Life Member & inducted into their Hall of Fame – Australian Hypnotherapists Association Inc.
Master Hypnotherapy Trainer – Awarded by the International Associations of Counsellors and Therapists. (USA)*
Merv Holster Award – the highest award given within the profession in New Zealand.
*Regarding the title "Certified Master Trainer" the IACT website states:
"The designated title of Certified Master Trainer is IACT's highest trainer status and distinguishes these professionals as part of an elite group. As a Certified Master Trainer with IACT, they represent our International Certifying Body on the highest level. As such, they exemplify professional conduct that reflects positively upon IACT and the profession. Our Certified Master Trainers strictly adhere to the IACT Code of Ethics and set a positive example for others to follow."
Roger has trained with/met highly regarded Hypnotherapy Trainers and Hypnotherapists
Gil Boyne 2024 – 2010

 Roger Saxelby trained a number of times with the late, great Gill Boyne.

In 1990 Roger travelled to USA especially to train with Boyne.  And then hosted him out to New Zealand a number of times to conduct his "Transforming Therapy" training, which revolutionised hypnotherapy.  Boyne as worked with well known film and sports stars and conducted training with Tony Robbins.

Some of our Alpha students went to the USA conference in 2007 and were delighted to be able to meet with Gil. Sadly, he passed away in 2010.




Roger Saxelby with Roy Hunter

Roger  met Roy Hunter when he came out to talk at the National Hypnotherapy Conference some years ago, although had been an avid follower of his for many years.

Roger Saxelby with Dr George Bien

In 2007 Roger travelled to Miami, Florida to attend the IACT Conference and Roger attended Hypnotherapy Trainer training conducted by Bien pre-conference.  Roger had been following Bien before that and has continued since.

Roger Saxelby with Andrew Newton

Roger went to see Andrew Newton, the famous Stage Hypnotist a number of years ago after hearing his interview on the radio and contacting him. Andrew invited Roger to be his guest at his show at Sky City that evening, which was the start of a collaboration. As Andrew was moving more into the filed of Hypnotherapy and training, Alpha Hypnosis hosted Andrew to teach his workshop to Hypnotherapist and hosted his a number of times over the years.

Roger Saxelby with Dr Casey Chau

Roger met Dr Casey Chau at the 2007 IACT Conference, although was aware of him before that. They spent the day together, sharing stories and knowledge and stayed in touch afterwards. Sadly Chau died the following year.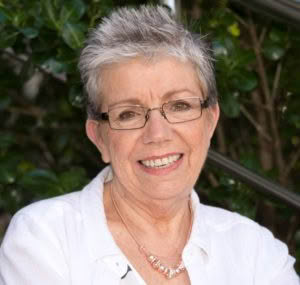 Sue Wood
– Dip. Adv. Clin. Hyp. Dip Adv. Hyp. (USA) NZHRB Registered Hypnotherapist, Hon. Life Member NZAPH. is the  administrator for Alpha Hypnosis and a hypnotherapist in her own right.
Sue was a Lifeline telephone counsellor for some years and has completed a number of counselling training modules. She graduated with a Diploma of Advanced Clinical Hypnotherapy 1994, joining Roger to become his partner in business and life later that year. She was able to integrate her counselling knowledge into her hypnotherapy practise, as well as Alpha's professional hypnotherapy training. Sue has assisted Roger with the training over the years, as well as taught some of the modules.
As well as helping clients since she graduated, in 2014 Sue started specialising in helping people lose weight with the Virtual Gastric and programme, developed by UK Hypnotherapist Sheila Granger. Having succeeded in utilising VGB for her own weight loss goals (16.5Kgs in 6 months) and after feedback from her own clients, Sue has extended the original four session programme to give her client's "peace of mind" with much longer-term support.
She now offers her Virtual Gastric Band Life Change programme as an online personalised programme (one to one) or as a online group programme.
Contact Sue now for your 45 Min FREE consultation, to find out which would work for you. 
More about Sue Wood
With Sue's counselling background and after she joined Alpha, she was able to assist in developing a more robust counselling module for the Alpha Hypnotherapy training course. Sue has completed many other training programs including "Transforming Therapy" with the late Gil Boyne (USA), NLP Timeline™ Therapy, Parts Therapy with Roy Hunter (USA), Phobias & PTSD, HypnoFertility, Hypnosis for Birthing and more.
Sue specialises in the Virtual Gastric Band programme – hypnotherapy for weight loss. She has only recently stood down from being on the committee of the NZ Association of Professional Hypnotherapists Inc. She was also one of the main organizers of the annual National Hypnotherapy Conference. And she was on the advisory group that set national standards of training and competency for the profession in NZ, and in bringing those standards into the NZAPH. 
She was also Secretary of the NZ Hypnotherapists Registration Board Inc. and the NZ Hypnotherapy Federation Inc. for many years. 
Follow Alpha Hypnosis Online...